If you had the chance to change your fate, would you?
Just watched Brave and the movie's pretty awesome!
Source: Google
The Good:
The visuals are to-die-for, very vivid, stunning and close to perfection. It's visuals are the best, yet, among any other 3D Animated movies I've seen.
The Bad:
There were words said that I think aren't appropriate for kids. Also, it's harsher that I thought!
My Thoughts:
First of, I would like to say that watching Brave was definitely worth-it, because it's not your usual Disney movie, there were more action and less drama . . . Don't get me wrong, though, the movie was very, very heartfelt, and was also full of humor.
As I have said, I was genuinely fascinated with Brave's visuals; and I think the visuals helped me get into the story and not just wait for eye-popping 3D effects.
Many would probably ask if I felt like: just watching another Disney film, my solidified, cemented and unchangeable answer is no. I mean yes you'd know that it is, but at the same time you wouldn't. Like what I said: "
not your usual Disney movie.
"
Of course, not all movies are perfect, Brave has it's own flaws, too; I just can't put my finger on it.
Brave, I think aren't for children of all ages, or maybe it depends on their maturity. Why? Well, as I said, the movie was much harsher than I have thought. The violence level of the movie was not the usual, it's more acerbic than ever. In fact, I heard one shout in fear every time there's a frightening, action-packed, fighting scene. To be honest I was frightened, too, but not to the point that I would scream, of course!
In short, Brave is definitely worth to watch, but remember: though the movie is for kids the maturity level of your children are still important, if you think they can handle frightening scenes like: a scary, viscous bear with its mouth wide open showing its pointy teeth (
Mor'du)
and is slightly going out of the movie screen and some more, good!
My Rating:
P.S.
the story is very, very inspirational and full of lessons.
P.P.S.
Also, I like
Disney Pixar's Tangled's
soundtrack better
"Some say fate is beyond our command, but I know better. Our destiny is withing us. You just have to be brave enough to see it." ~Merrida
[Merrida wanting her freedom] "Are you willing to pay the price your freedom will cost? " ~ Queen Elinor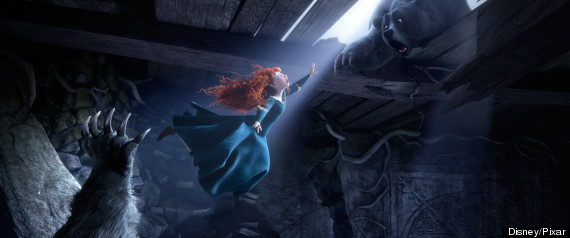 My favorite part!
All of the images are from Google Images